Posted on December 21st, 2018
Pudina pachadi recipe – Mint chutney
Pudina pachadi – mint chutney – another everyday simple chutney recipe with mint leaves, peanuts, sesame seeds, and other spices. This chutney goes very well with hot rice and dollop of ghee. It will also be good for idly, dosa and roti as well.
This is again my Mom's recipe 🙂 By this time, you might know how much I love chutneys 🙂 There are many more chutney recipes which I have to add to this blog. I have grown up eating chutney with almost every vegetable. And I find chutney as an easy way to include nuts and seeds like peanuts, sesame seeds, coconut etc., along with veggies in the day to day meals. Chutney or pachadi with leafy veggies make them a tasty and interesting way to include leafy greens.
Chutneys are easy to make and a good option for busy weekdays. Generally, we make little extra and have it with tiffins as well as with rice. And all chutneys stores well for a couple of days in the refrigerator. Due to busy day to day life chores, it's not easy for everyone to make every meal from scratch. In those cases, these chutneys or gunpowders are life saviors. I use chutneys and gunpowders as a spread for roti or dosa for my daughter's lunch box. We don't eat bread on regular basis, but these will be good as a sandwich spread as well.
Other chutney recipes with leafy greens which you might be interested in
Click here to see all chutney recipes on this blog.
Pudina pachadi recipe – mint chutney recipe:
If you try this recipe or any of my recipes, please share your valuable feedback. I would love to hear your feedback on any of my recipes. You can share the feedback here or on my personal Instagram or Facebook page. Please do share the recipe if you like it 🙂
Detailed steps to make pudina pachadi – mint chutney recipe:
Wash and soak lemon-sized tamarind in 1/4 cup of water.
Dry roast peanuts, sesame seeds, cumin seeds, fenugreek or methi seeds and keep them aside. Add tbsp of oil to kadai and fry red chili and keep it aside. To these roasted ingredients, add turmeric powder, sugar, coriander seeds powder, garlic cloves, and salt.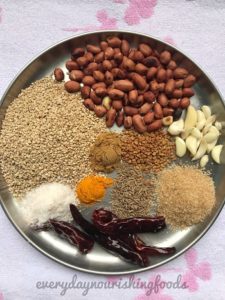 To the same kadai, add mint or pudina leaves and let it fry for a couple of minutes.
They will be wilted like this in just 2 or 3 minutes.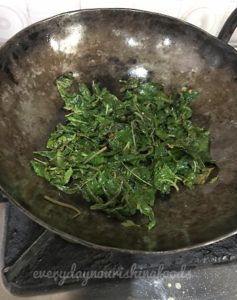 Meanwhile, take all dry ingredients in a mixer grinder and grind it into smooth paste by adding tamarind along with soaked water. If required you can add 1/4 cup more water.
To the above paste, add wilted mint leaves and make it into a smooth paste.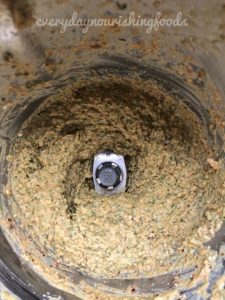 Now add roughly chopped onion and do reverse grinding for 3 or 4 times. so that onions are roughly mashed.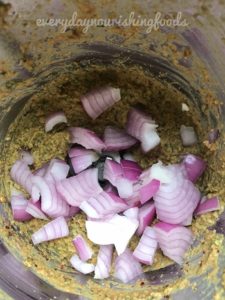 Dish out the chutney into a serving dish. This chutney goes well with almost everything.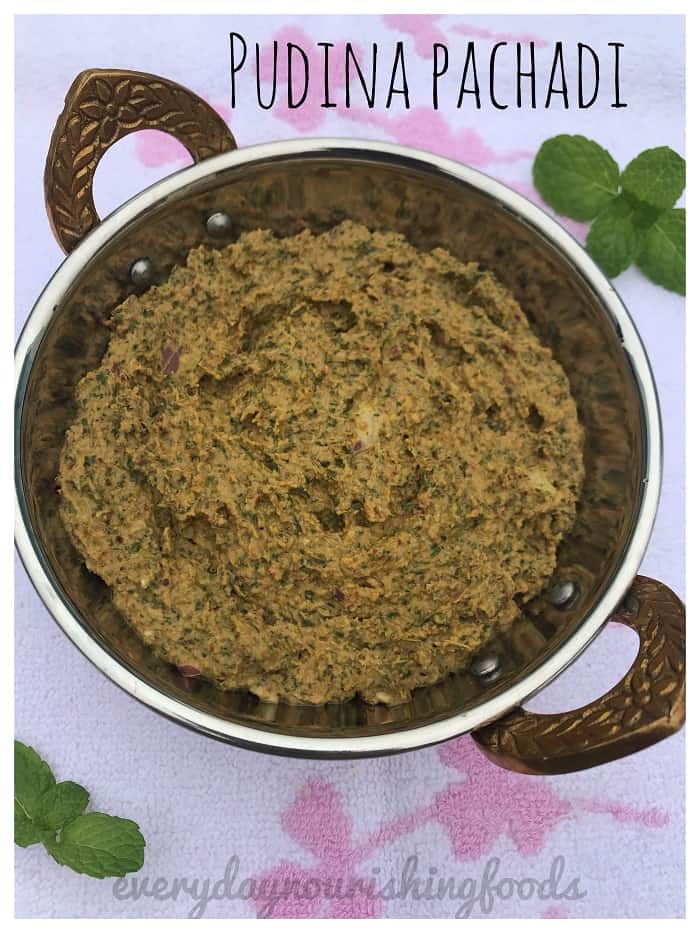 ---
---