This chickpea kale curry is a beautiful fusion of tender chickpeas, vibrant kale, and aromatic spices that is flavorful and nutritious. Make this easy and quick recipe today, and enjoy a home-cooked meal even on your busy days. This creamy kale chickpeas curry will surely please everyone.
Curry is a very integral part of our daily meals. They make a good side dish, and I sometimes have it as itself for a light meal.
Chickpeas are versatile beans that take up flavors so well. And I love to use chickpeas to make everyday curries. I have shared many chickpea curry recipes on this blog, which I frequently make at home. Here are some of the recipes that you may like.
Ingredients for Chickpea Kale Curry
We can easily make this flavorful curry at home with staple pantry ingredients and fresh kale. So let's get started.
Chickpeas: I have soaked chickpeas and cooked them using an Instant Pot. I have a detailed Instant Pot chickpeas recipe that you can check out. If using canned chickpeas, drain the water and rinse them a couple of times to remove excess salt.
Kale: I used red Russian kale to make this curry. Any other kale varieties like Tuscan kale, baby kale, and curly kale go well in this curry.
Aromatics: I used finely chopped onion and fresh ginger. You can use garlic as well. If fresh garlic or ginger is unavailable, you can use ginger garlic paste or garlic powder.
Spices: Regular spices like red chili powder, ground cumin, coriander powder, and freshly ground black pepper will flavor the curry very well. Instead of these spice powders, you can use curry powder or a spice blend of your choice.
Veggies: Though kale is the star ingredient for this curry, I also used colored bell pepper, and they are optional. Other veggies like carrots, cauliflower, broccoli, potato, sweet potato, peas, and corn also go well in this curry. You can even use frozen veggies to make this wholesome chickpeas curry.
How to make Chickpea Kale Curry
Prep the Chickpeas
If you like to cook chickpeas from scratch, Instant Pot is so helpful. Check out my detailed post on Instant Pot chickpeas to cook dried and soaked chickpeas.
If you are using canned chickpeas to make this curry, drain the chickpeas. Rinse them in fresh water and keep them aside till we use them.
Prep other ingredients
Wash and chop the kale. And finely chop onions and keep them aside.
If you are using veggies, chop them into small cubes so they can cook quickly, along with chickpeas.
Saute the ingredients
Heat a cooking pot or a large pan. Once it is hot, add oil.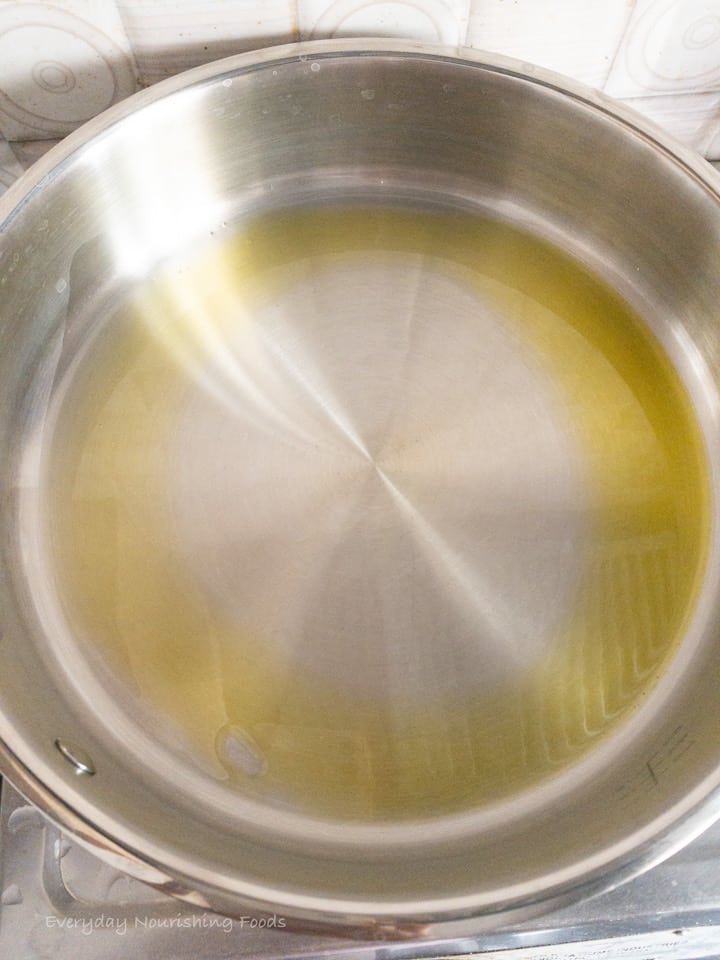 Add cumin seeds and grated ginger. Let them splutter.
Then goes finely chopped bell peppers. I used yellow and red bell pepper. And bell pepper works fine in this recipe.
After sauteing peppers for 4 to 5 minutes, add cooked chickpeas and stir well.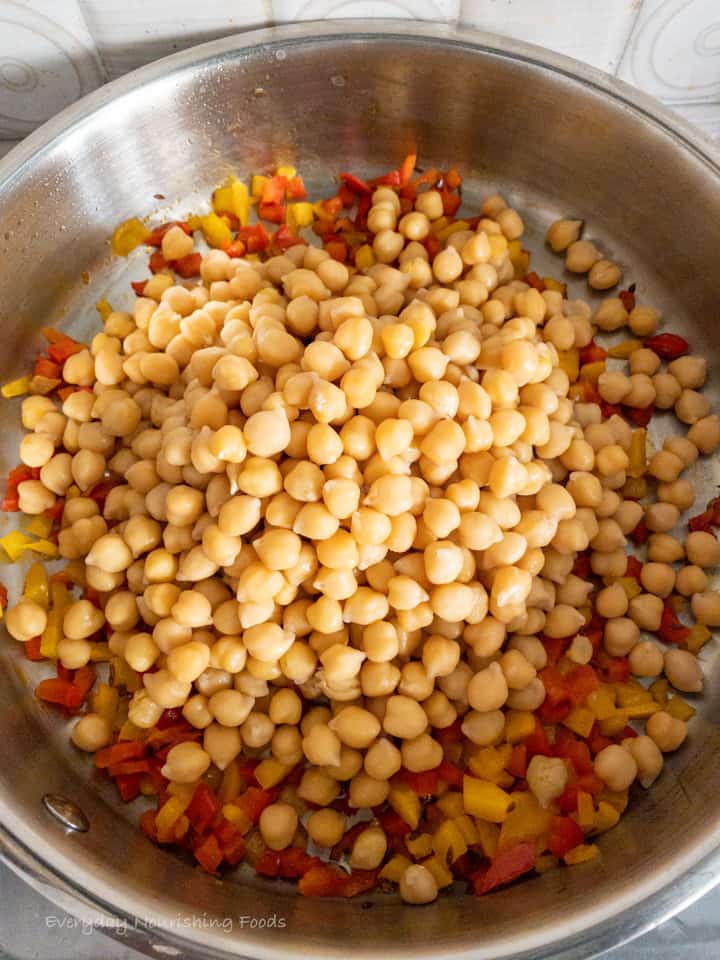 Add the spices
Add turmeric powder, ground cumin, coriander powder, red chili powder, ground black pepper, and salt.
Mix everything well so that spice powders are coated well with the chickpeas.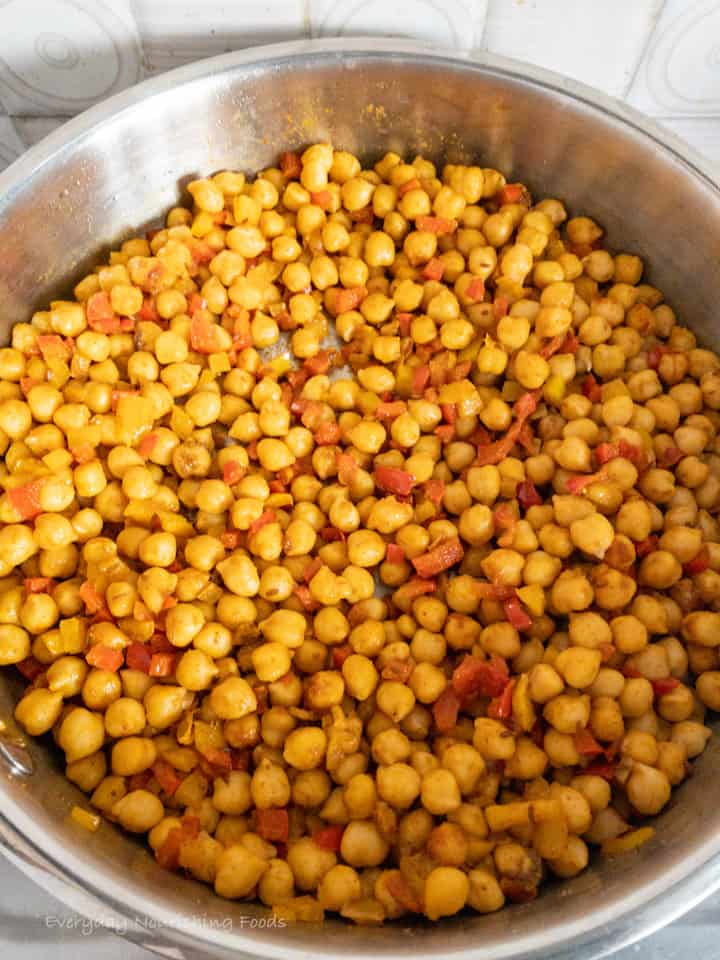 Simmer the curry
Now add coconut milk and let it come to a boil.
Then goes the chopped kale. Simmer the curry on low heat for 8 to 10 minutes or until the kale is cooked as you like.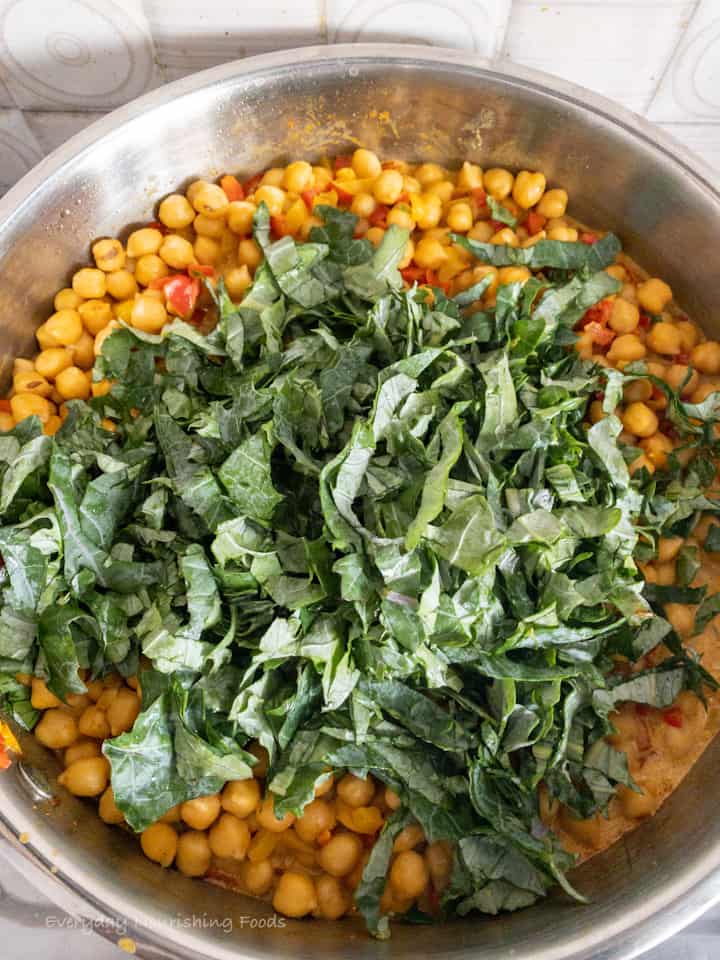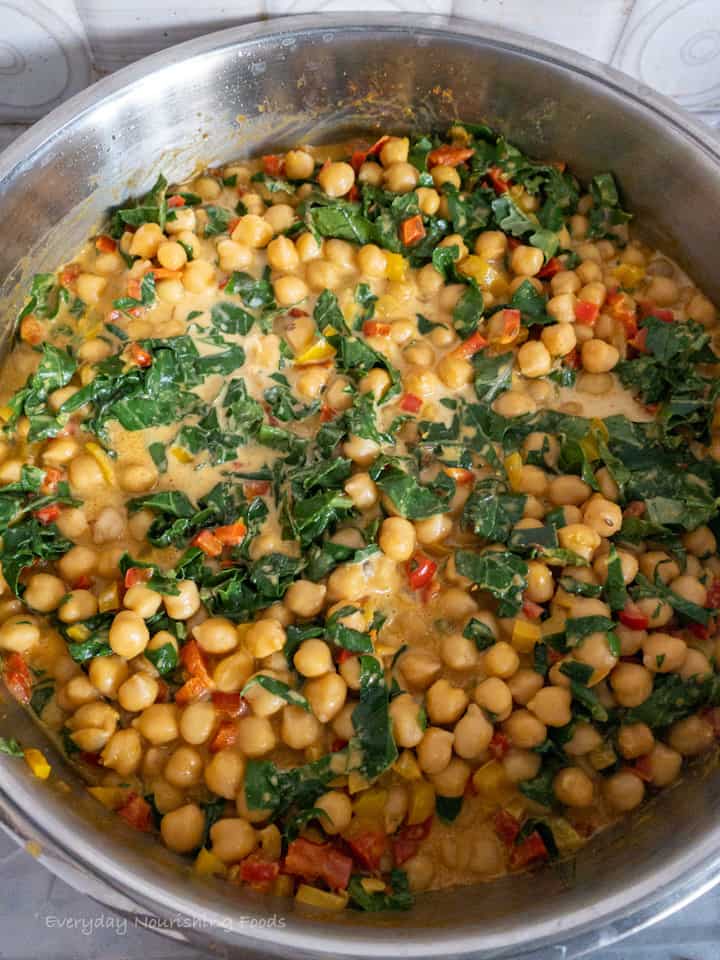 I simmered for around 10 minutes. Stir in between once or twice to prevent sticking.
Garnish and serve
Take the curry out of the heat. You can garnish the curry with fresh cilantro leaves or any fresh herbs. You could add a teaspoon of lemon juice as well.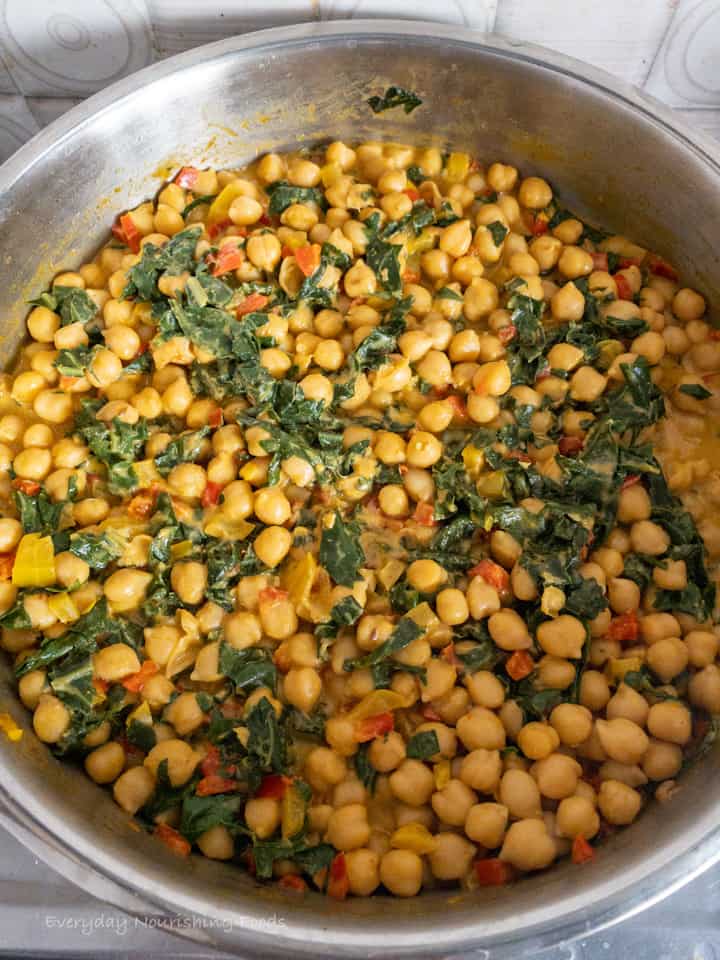 And the delicious Chickpeas Kale curry is ready to serve. I like to pair this with a bowl of basmati rice or flatbread.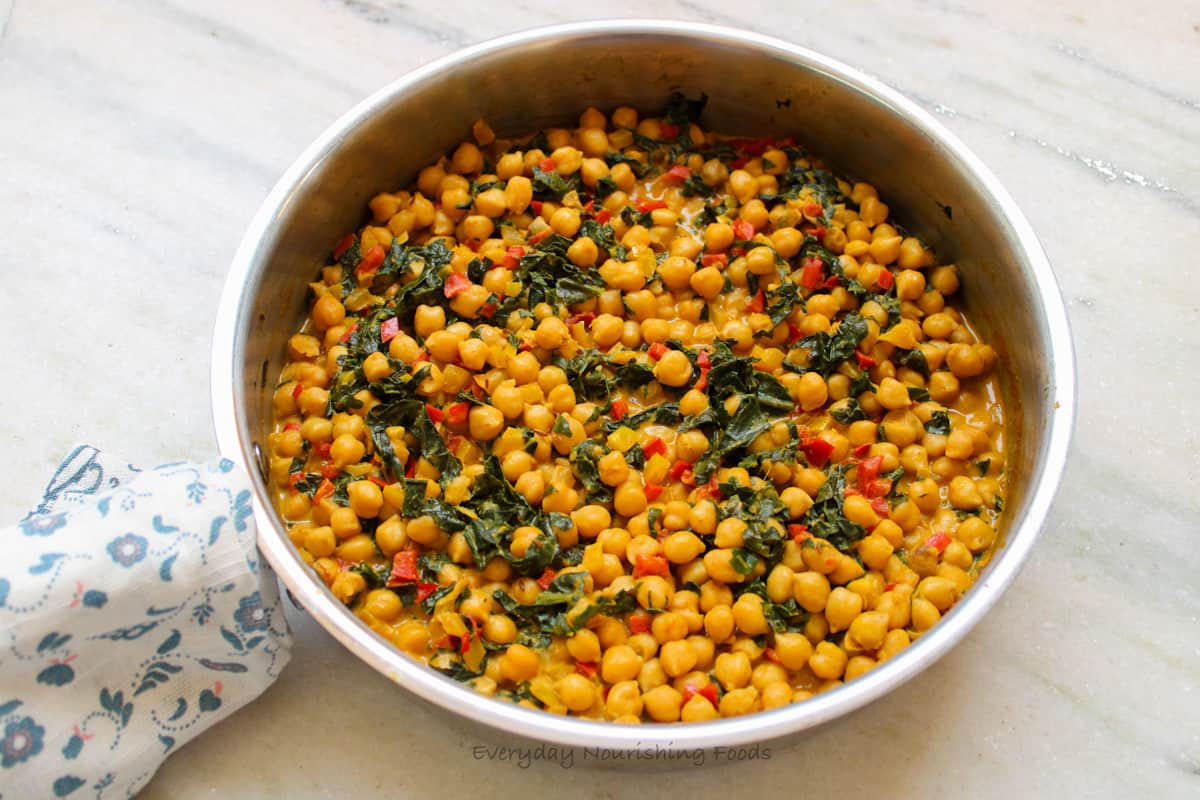 Recipe Notes and Variations
I used homemade coconut milk to make this kale chickpea curry; canned coconut milk also works here. I prefer using full-fat coconut milk for the creamy curry.
Don't like coconut flavor? You can replace coconut milk with water or plant-based milk like soy, almond, or oat milk.
I sometimes add one tablespoon of almond butter or peanut butter to thicken the curry and make it more creamy. If you are not dairy-free, you can also use regular cream.
Chickpea and tahini combination also tastes good. You can add 1 tablespoon of tahini to make this curry more creamier. 
You can skip all the spice powders and use a tablespoon of curry powder to make this kale chickpea curry. Adjust curry powder according to the spice level, some curry powders are mild, and some might not be. You can even use curry paste.
Don't have kale, or you don't like it? You can make this curry with other leafy greens like spinach, swiss chard, collard greens, and mustard greens. Though the final taste of curry would change, it would be delicious. Even if you skip all greens, this curry will be delicious.
I used avocado oil to make this curry. You can also use other oils like coconut oil, vegetable oil, or ghee. Regular butter or vegan butter also goes well in this recipe.
Add 1 or 2 tablespoon of lemon juice to add a tangy flavor to this curry. 
I haven't used tomatoes while making this curry. If you wish, add it. Tomato paste or tomato puree, or roasted tomatoes also go well here.
This dish is naturally vegan and gluten-free and is mildly spiced. You could add red chili flakes or green chili to make this more spicier.
Serving suggestions
Like all other curries, this chickpeas kale curry tastes best with hot basmati rice or any Indian flatbread like chapati, paratha, or naan bread. I sometimes serve this curry with cooked millet or quinoa to make the meal more filling.
You can use leftover curry as a sandwich filling or to fill tortilla wraps. And it will make a good carry-on lunch.
And you can add toasted bread croutons and serve this curry as a salad for a light and refreshing meal.
Storage
As we are using coconut milk, the shelf life of this curry is less. This curry keeps well for about 8 hours or so at room temperature. And you can keep it in the refrigerator for one or two days.
And you can freeze this curry for about 2 to 3 months and enjoy it on your busy days. Make sure to store the curry in portion-sized containers that are freezer safe. Thaw only the required amount of curry and consume it immediately.
Chickpea Kale Curry FAQ
How can I adjust the spiciness of the curry?
If you prefer a spicier curry, add more red chili powder or a pinch of cayenne pepper. You can even add green chili. For a mildly spiced curry, use curry powder.
Can I make this curry in advance or freeze it for later?
You can also freeze it in airtight containers for up to three months. Just make sure to thaw it in the refrigerator overnight before reheating. Else, you can freeze the cooked chickpeas and make this curry when needed.
How long does it take to cook kale in a curry?
It depends on the type of kale and how you prefer it. But it should take you at most 10 minutes.
As you are here, you will like other vegetable curries on this blog. Check them out.
Have you tried this recipe? Provide your feedback by giving a star rating and/or leaving comments. And don't forget to share the recipe with others on Facebook, Instagram, Pinterest, or Twitter.
Recipe
Tried this recipe?
Give the rating by clicking ★ below
Chickpea Kale Curry
This chickpea kale curry is a beautiful fusion of tender chickpeas, vibrant kale, and aromatic spices that is flavorful and nutritious. Make this easy and quick recipe today, and enjoy a home-cooked meal even on your busy days
Ingredients
3

cups

chickpeas

cooked (2 15-oz cans)

2

cups

Kale

I used Red Russian

1.5

cups

coconut milk

½

cup

onion

chopped

1

red bell pepper

finely chopped

1

yellow bell pepper

finely chopped

1

tablespoon

oil

1

teaspoon

ginger

chopped or grated

1

teaspoon

salt

adjust according to your taste

½

teaspoon

cumin seeds
Spices for chickpea kale curry
Instructions
Head a thick-bottomed cooking pot or a saucepan.

Once it is hot, add oil, cumin seeds, and grated ginger. Let the cumin seeds splutter.

1 tablespoon oil,

½ teaspoon cumin seeds,

1 teaspoon ginger

Add finely chopped onion and let it cook for a couple of minutes.

Add chopped bell pepper and saute them on medium heat for 3 to 4 minutes.

1 red bell pepper,

1 yellow bell pepper

Add cooked chickpeas and mix them well.

Gather all spice powders - cumin powder, coriander powder, red chili powder, turmeric powder, and black pepper powder. Now add these spices to the pan. Also, add salt and mix everything well.

½ teaspoon red chili powder,

½ teaspoon ground cumin,

½ teaspoon coriander powder,

¼ teaspoon turmeric powder,

¼ teaspoon ground black pepper,

1 teaspoon salt

To this chickpea mixture, now add coconut milk. You can use plain water or vegetable stock also.

Add chopped kale and stir it once.

Now cook this chickpea kale curry over medium heat for about 6 to 8 minutes or until the kale is cooked as you like.

Switch off the flame, and the delicious creamy kale chickpea curry is ready to serve.
Notes
Nutrition values are my rough estimates. Please feel free to use your calculator if you rely on them for your diet.
Nutrition
Calories:
346
kcal
Carbohydrates:
27
g
Protein:
10
g
Fat:
25
g
Saturated Fat:
17
g
Polyunsaturated Fat:
3
g
Monounsaturated Fat:
4
g
Trans Fat:
0.01
g
Sodium:
960
mg
Potassium:
659
mg
Fiber:
8
g
Sugar:
2
g
Vitamin A:
4438
IU
Vitamin C:
127
mg
Calcium:
162
mg
Iron:
6
mg
Pin the recipe for later use!