Collection of Indian vegetarian lunch ideas and recipes - What's for lunch is the common everyday question in every household. Though the question looks simple, the answer is not.
Everyone struggles to decide on what to cook for lunch. And if you have a family with kids and elderly adults, it will become more difficult as you have to please different age groups.
In this post, I will share with you Indian vegetarian lunch ideas that are healthy and simple enough so that you can cook these meals every day. I will also share with you the tips on meal planning and food reuse to avoid wastage.
Why do you need to plan your lunch ahead
It requires time and patience to cook and plan everyday meals. Though elaborate cooking is not possible for everyone and every day, we shouldn't ignore making nutritious and fresh lunch as a healthy diet is a key to overall wellness.
I believe that Healthy and clean eating should become part of our routine and not a 7-day challenge or 21-day challenge. So with the proper planning, you can cook all the meals every day at home and that too without spending the whole day in the kitchen.
Also, proper planning makes lunch prep easy and less stressful.
Tips for lunch preparation
If possible, plan all your meals for the whole week or at least for a day. You are half successful if you know what to cook ahead.
Soak the grain and legumes accordingly. If you plan for the whole week, you can soak beans on weekend and store the soaked beans in the refrigerator for a couple of days.
Though you need not soak grains like rice and millet, soaking them will remove the anti-nutrients and also reduces cooking time.
Make sprouts from green mung beans, moth beans, black chickpeas on the weekend and you can use them throughout the week.
Try to buy veggies and fruits ahead of time, mostly on weekends.
Food groups to be included in a healthy lunch
Grains: The typical South Indian in me asks for rice 🙂 So we eat rice for at least one meal and that will be mostly our lunch. You could have whole wheat roti, millet roti, cooked millet, cooked quinoa as a replacement for rice. Try to include all kinds of grains like rice (brown rice, red rice, black rice, etc.,) wheat, millet, quinoa, etc.,
Pulses: Pulses are a great source of protein for vegetarians. So try to include at least 10 types of beans and lentils every month. Common pulse used in Indian cooking are pigeon peas (toor dal), red lentils (masoor dal), split green gram (mung dal), split Bengal gram (chana dal), red kidney beans (rajma), black chickpeas, while chickpeas (Kabuli chana), black-eyed peas( lobia), horse gram(kulith), brown lentils (whole masoor dal)
Vegetables: Fresh vegetables and greens are good sources of vitamins and minerals. So I try to include them for all meals. Check all the below lunch ideas and you will find different ways to include vegetables in your lunch meal.
Nuts and seeds: Generally people ignore this food group but nuts and seeds are nutritional powerhouses. Small quantities of nuts and seeds in our daily meal will provide us essential vitamins, minerals, and healthy fats. I usually make various chutneys with vegetables and seeds to include the goodness of both of these.
Ideas to reuse the leftovers
You can always have your curry or dal or chutney for dinner. On busy days, cook more portions of these items and your dinner will be sorted out. If you do not want to eat rice for dinner, you can have the leftover curry or dal with either roti or dosa or idly.
If you have some leftover beans curry or dal or Pongal, add whole wheat flour to it. Add spices accordingly and make roti out of them. You do not need any other side dish for this.
Leftover rice or millet or quinoa can be used to make various dishes. I have few recipes with cooked millet, you can make these with leftover rice or leftover quinoa also. Check millet capsicum rice recipe, millet gongura rice recipe, millet lemon rice recipe.
Leftover rasam can be used for making the roti dough instead of water.
I usually prepare chutneys for breakfast and reuse them for lunch.
And if you do not get bored with eating the same food for dinner also, just reheat everything on the stove, cook fresh rice or roti and enjoy your dinner! This is far better than any outside food.
27+ Indian vegetarian lunch ideas
Here I am sharing with you the different healthy lunch ideas. At home, we cook elaborate meals only for festivals or special occasions, so most of these are simple everyday meals that are balanced with all food groups.
I don't have all the recipes on the blog yet and I have provided you the recipe links that are on the blog already. And comment below if you want me to share any of the recipes from these ideas.
Typical Indian vegetarian lunch ideas:
Bok choy fried rice, Gongura pappu, Raita and veggies
I have used cooked millet to make this quick bok choy fried rice. You can use cooked rice or quinoa also to make this.
I have used coconut yogurt to make the raita.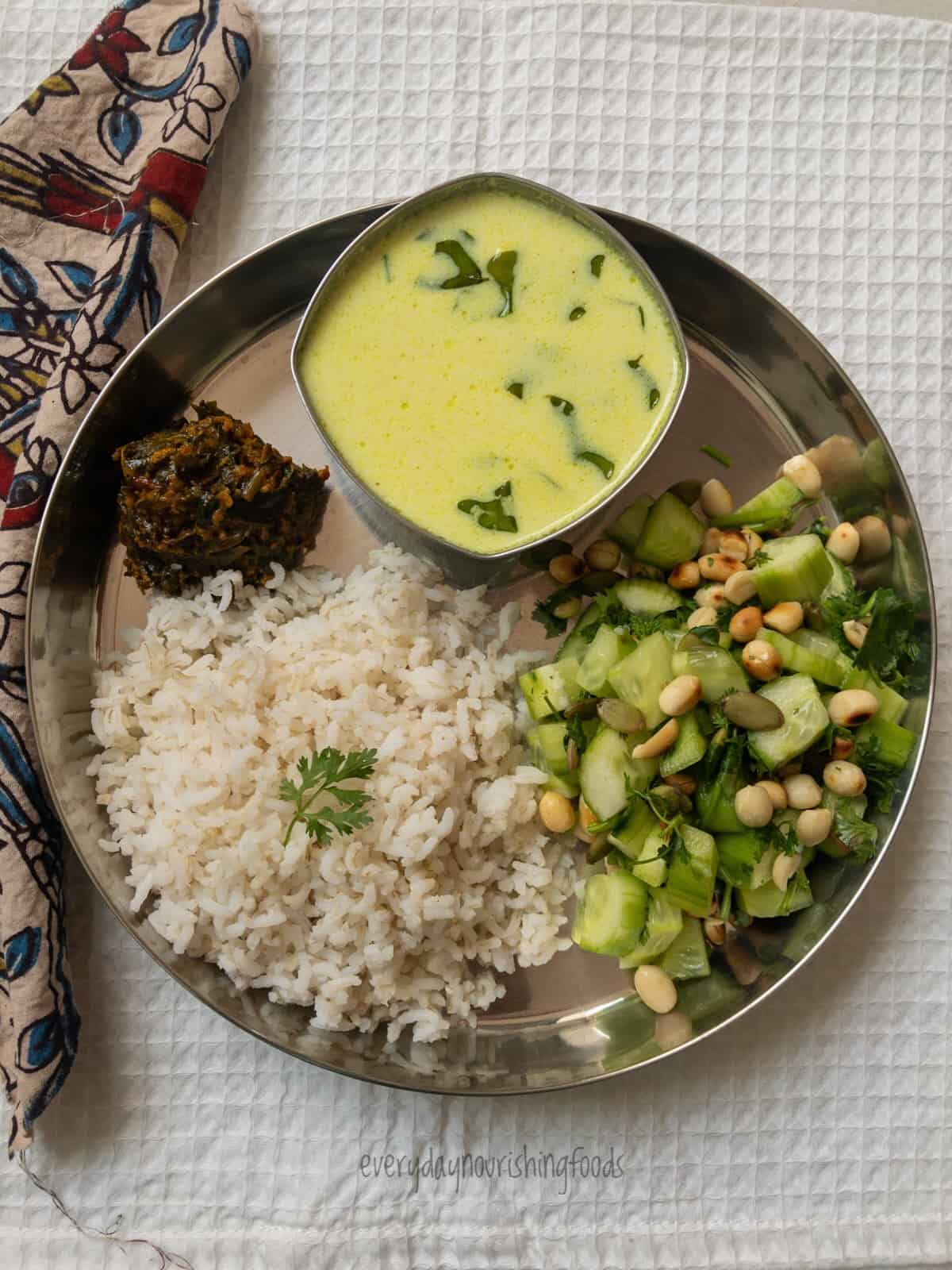 Peanut cucumber salad, coconut milk rasam, Malabar spinach chutney, and rice
There is no need to do any prep work for this meal. So when you forgot to plan or have a quick lunch, this kind of meal is helpful.
You can replace peanuts with any beans in this salad.
Amaranth leaves dal( Thotakura Pappu), hand pounded rice, and mixed veggies.
Quick lunch that can be made in 30 minutes.
My weekday lunch will be this simple sometimes.
Just make sure to add lots of veggies.
Cabbage peas curry, beans besan curry, curry leaves podi, rice, mango, and ghee.
Some days I skip dal and have the rice with protein-rich gun powders.
You can add roasted besan flour or sattu flour for beans curry for added protein and taste of course :). You can make capsicum curry also in a similar way.
Steamed Methi muthiya curry, Banana flower chutney, and rice
You can use any leafy green veggies for making steamed dumplings.
Banana blossom chutney is made with sesame seeds and urad dal.
Indian style chickpeas salad, brinjal chutney, coconut milk rasam, and rice
Soak the chickpeas overnight or for around 8 hours.
You can use any beans like rajma, kala chana, lobia to make this simple salad.
Cooked millet will also go well instead of rice in this combination
Tamarind rice, Peanut rice, Sesame seeds rice, Coconut rice, Curd rice, and malida laddu
This is the traditional festive meal which we usually make for varalakshmi vratam day.
Instead of making complete spread, you can make one or two types of these kinds of rice dishes. These are healthy as we include nuts and seeds and quite filling.
This spread will be good for breakfast and lunch box also.
To make it more healthy, replace rice with cooked millet or quinoa.
Rajma salad with avocado, spinach dal, coconut milk rasam, and rice
A simple hearty meal and you can replace rice with roti or millet or quinoa.
Soak the kidney beans overnight. Sometimes if I am busy, I freeze cooked kidney beans on weekends and use it on weekdays to make this salad. You can use canned beans if they are available to you.
Ulavacharu, carrot bok choy fry, rice, and cucumber
Ulavacharu is my favorite way of including horse gram in our daily diet.
You need to soak horse gram overnight for making it.
And coming to carrot bok choy fry, its a grated carrot stir fry, and I have added bok choy to it. You can add kale or amaranth leaves or spinach leaves to the curry. I always try to sneak leafy greens in some or other form.
Puffed amaranth and mushroom kofta in cashew tomato gravy and whole wheat roti
I made koftas using mushroom Tikki dough. Check the recipe on how to do it.
This will be a good meal if you want to indulge something but yet healthy. Healthy eating can be made tasty.
Rajma vegetable curry, whole wheat roti, and veggies
Soak the kidney beans for 8 hours or overnight.
You can have this rajma curry with rice also or as it is for a light and protein-rich meal.
To make this rajma curry, you can use any seasonal veggies, please check the recipe.
Paneer besan curry, tomato dal and roti
This is again a meal that doesn't require any planning before.
Paneer along with veggies is marinated in chickpea flour and baked in an oven.
You can make this panner batter ahead of time also, so this meal is helpful for busy weekdays.
Stir-fried mixed veggies with panner, roti , and raw carrots
Paneer makes this meal protein-rich. You can use tofu for a vegan option.
For making this stir fry you can use any veggies like capsicum, zucchini, squash, sweet corn, peas, baby corn.
Instead of whole wheat roti, you can have this with any flatbread.
Steamed potatoes cooked in mushroom gravy
No prep work is needed for this dish.
This will be a good option if you want to make lunch for one or two people.
Have this as a meal by itself or with a side for any flatbread or with toasted bread.
Quinoa pudding with coconut milk, peas potato curry, roti, and sunflower microgreens
You can add good protein to your meal in the form of desserts also. Make this quinoa kheer and enjoy it guiltfree. You can have this for even breakfast.
For peas potato curry, potatoes are cooked in mashed peas and that gave gravy texture to the curry.
Raw banana poriyal, tomato rasam, plain dal, and rice
This is again a simple meal that doesn't need any soaking or prep work the day before.
Raw bananas are highly nutritious and by grating them, they can be cooked quickly and it will also be so tasty.
Telangana style sesame seeds Pongal, brinjal gotsu, strawberry banana mash
Usually, fruits should not be included with lunch but sometimes if you carve for something sweet, it's okay to have them. Instead of having it last, start your lunch with fruit.
I just mashed one small banana and a couple of strawberries together. And the resulting thick puree will taste delicious even without sugar.
And the Pongal has rice, moong dal, sesame seeds, and turmeric powder.
Snake gourd chutney, bitter gourd pulusu, rice, carrots, and homemade leftover rice vadam
We usually make this pulusu with bitter gourd as cooking this veggie with tamarind makes it less bitter.
In summer, we usually make these vadams with leftover rice.
Instant pot dal tadka, kale jeera rice, ragi brownie, and cucumber
Simple jeera rice can also be made healthy. I have sauteed kale along with jeera and added cooked rice. Adjust salt and heat it for a couple of minutes.
I made this similar to my bok choy fried rice, replaced millet with cooked rice and bok choy with kale.
For dal tadka, used masoor dal, urad dal, toor dal and moong dal in equal proportions.
Millet mango rice, ladys finger curry, bobatlu, rasam, and rice
Another festive meal that is made healthy.
Usually, rice is used to make pulihora but I used cooked millet and added black chickpeas.
The leftover water from cooked chickpeas is used to make simple rasam.
Baksham, sweet chana dal stuffed paratha is a Telangana delicacy.
Horse gram rasam, Malabar spinach chutney, peanut podi, rice, and cucumber
Horse gram or kollu should be soaked overnight. And leftover horse gram can be used to make hummus or salad or paratha.
Instead of Malabar spinach or bachalikura, you can use Spinach also to make the chutney recipe.
Simple one-pot lunch ideas:
I love one-pot dishes as they are so convenient to make and taste delicious. Usually, we make one-pot rice dishes for Sunday lunch. I try to sneak in as many veggies as possible in these dishes so that we do not need any side dish.
Generally, one-pot rice dishes like pulao or Biryani are served with raita, which indeed adds protein to your meal. I try to sneak in some kind of beans or legumes also for protein-rich rice dishes. Here are a few ideas for healthy one-pot meals.
Millet khichdi, coconut yogurt with gulkand
Simple khichdi with foxtail millet. I have added potatoes and raw mango to the khichdi and flavored it with a little homemade sambar powder.
Coconut yogurt and rose petals jam will taste very good. You can even have this combination with regular yogurt.
Rajma pulao and raw veggies
You need to soak kidney beans for 8 hours or overnight.
Instead of rajma, you can make this pulao using chickpeas or black chickpeas or cowpeas also.
I usually add veggies to the pulao to make it a complete meal by itself.
This will be a good option if you want to make your lunch quickly.
Sambar rice with homemade sambar powder
Sambar rice is my most favorite one-pot meal, though I like to cook rice, dal, and veggies separately.
You can add any veggies in this dish.
Make this sambar rice with millet or quinoa instead of rice if you want to include alternate grains in your diet.
Check my bisi bele bath recipe and replace bisi bele bath powder with sambar powder.
This is a quick and easy version of the traditional bisi bele bath recipe that is also made healthy by using whole grains like millets.
You can add any veggies to this dish.
Black peas pulao and veggies
I have replaced rajma with black dried peas (kala vatana) in my rajma rice recipe.
Try to have a handful of mixed nuts daily for your daily quota of vitamins and minerals.
Vegetable pulao cooked in coconut milk, aloo kurma, and raw carrots
This coconut pulao will be mildly spiced and hence liked by kids very much.
Like other one-pot rice recipes, I add veggies also to the pulao so that it will be a complete meal.
I served it with aloo kurma that was leftover from breakfast.
You can serve it with any raita also.
Sprouts pulao, aloo kurma, and veggie salad
For making this sprouts pulao, you can use any sprouts.
I have used the mint mixture to cook the pulao but you can use spinach or coriander or sorrel leaves to make this mint pulao recipe.
Again kurma is the leftover from breakfast.
Millet lunch ideas:
Sometimes, when you want to eat a different grain, millet will be a good choice. Check these millet recipes that can be had for either breakfast or lunch or dinner.
Salad lunch ideas:
Check these healthy salad recipes that can be had for a light lunch. I prefer these when I am making a meal for myself.
As you are here, you might also like my breakfast recipes collection. Check out various healthy and easy breakfast recipes and you can enjoy them for any meal!