Last updated on December 19th, 2018
Vegetable rajma curry | Kidney beans vegetable curry
Vegetable rajma curry – kidney beans vegetable curry – simple everyday curry with rajma or red kidney beans and mixed veggies. This is a vegan recipe which goes well with any bread or roti and can be eaten with rice as well.
We try to include different kinds of beans and lentils in everyday meals. Today, to make this recipe, I have used white rajma called as munsiyari rajma. These have more flavor than red rajma and are more buttery in taste. Red rajma can also be used to make this recipe.
As I said in my earlier posts, it's very important to soak whole grains and beans so that phytic acid content is reduced and all nutrients are bio-available. Soaking also helps in easy digestion and better nutrient assimilation.
Variations to vegetable rajma curry:
This is no onion no garlic recipe. You could add chopped onion and garlic as well.
This recipe has coconut yogurt made with homemade coconut milk. Substitute this with normal yogurt for a non-vegan version. Or you can use cashew yogurt as well to make it vegan.
I have used Zucchini, carrots, and beans as these are in season now. Other veggies like pumpkin, potato or cauliflower will also be good in this.
Used homemade kitchen king masala powder to flavor this curry. You can replace it with garam masala or curry powder.
If you want to have a light meal, add coconut milk to this curry and have it as a soup.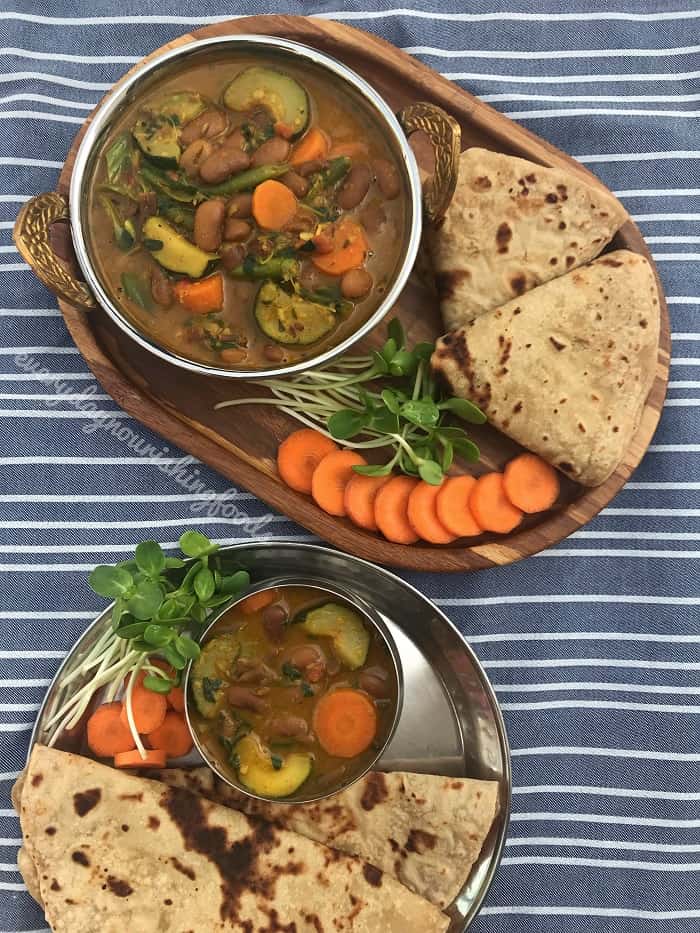 If you try this recipe or any of my recipes, please share your valuable feedback. I would love to hear your feedback on any of my recipes. You can share the feedback here or on my personal Instagram or Facebook page. Please do share the recipe if you like it 🙂
Recipe of vegetable rajma curry – kidney beans vegetable curry:
Detailed steps with pictures for making vegetable rajma curry:
Soak rajma or dried kidney beans for 8 hours or overnight.
Cook the soaked beans with 2 cups of water. I used a pressure cooker to cook them and it took 10 minutes.
Chop all veggies as shown in below picture.
Heat a pan and add 1 tbsp of oil or ghee.
Add half tsp cumin seeds and half tsp saunf or fennel seeds to the hot oil and let it splutter.
Now add finely chopped tomatoes, grated ginger and let it fry for a minute.
Now add chopped carrots and stir well.
Add chopped zucchini and stir-fry veggies for 3-4 minutes.
Now add chopped green beans, salt and let it fry further for a couple of minutes. You can close the pan with a lid so that water will be released from veggies.
Add spice powders – half tsp turmeric powder, half tsp red chili powder, 1.5 tsp kitchen king masala powder, half tsp coriander seeds powder and give a good stir.
By this time veggies might have almost cooked. Add boiled rajma along with the cooking liquid.
Let this cook for 5- 10 minutes. Mash few beans with the back of a spoon for creamy consistency or you could grind few beans and add it to the curry.
Now add finely chopped methi leaves and let it simmer further for 4-5 minutes.
Switch off the flame and add coconut yogurt or normal yogurt and give a good stir.
The dish is ready to serve! It goes well with roti or rice.
---
---