Simple and refreshing peanut cucumber salad with very few ingredients and even beginners can make it.
In this post, I will show you how to make this simple cucumber salad healthy and different salad dressings that go well with it.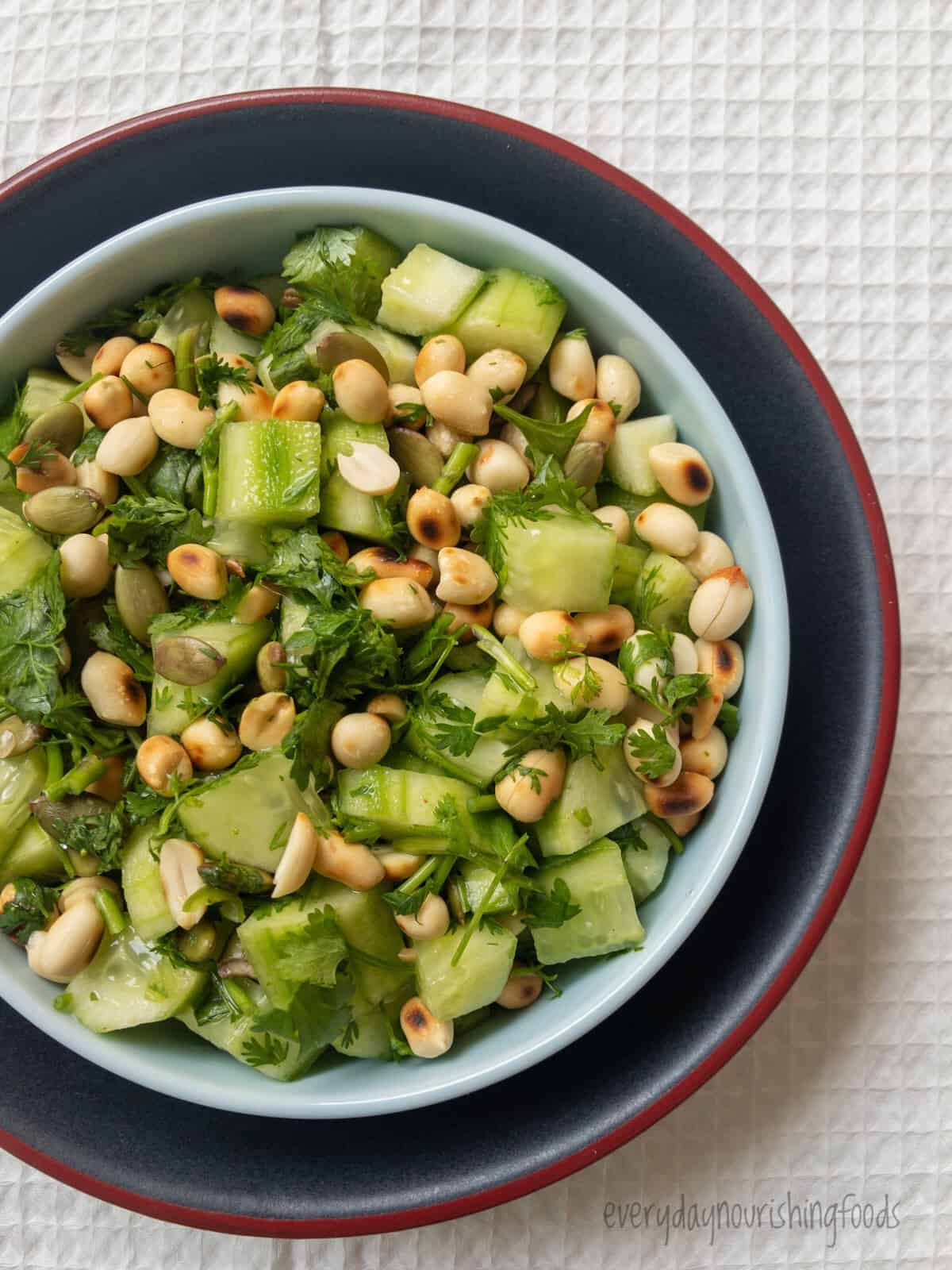 Cucumbers are versatile veggies and often available all the time. Though I like to eat them as they are, everyone may not like them. So here is the simple recipe and different variations to it tasty and healthy both at the same time.
Ingredients:
Cucumber - these have high water content, refreshing in taste, and perfect for summer salad recipes. These are low in carbs, high in vitamins, and phytonutrients. More than all these things, these are so tasty and can be included easily in any salads.
Peanuts - to add some protein and crunch to this salad, I used roasted peanuts. If you are allergic to peanuts or do not want to include them, you could add chopped almonds or walnuts or whole roasted Bengal gram.
Pumpkin seeds - I find salads, smoothies, and chutneys as an easy option to include seeds in our daily diet. They are tiny in size but full of nutritional value. You can use sunflower seeds or sesame seeds also in this recipe.
Coriander leaves - these fresh leaves give a beautiful flavor for the salad. Mint will taste amazing and makes this a perfect summer salad. You can even add fresh dill leaves or fennel or parsley.
Let's make cucumber peanut salad:
Chop the cucumber into half-inch cubes.
Peeling of cucumbers is optional and if you know the source of cucumbers and they are organic, do not peel them. Peel does contain the nutrients. But if you have digestion issues when you eat cucumber, then peel it and remove seeds. Some people cannot digest peel and seeds of cucumber, so go with your gut.
Kids can also make this salad, ask them to chop cucumber using a crinkle cutter. Kids will show interest when you involve them in making food.
Mix all the ingredients well.
And the salad is ready to serve! You can have this as a meal by itself or have it as part of a meal like I did. On the plate are hand pounded rice, coconut milk rasam, Malabar spinach chutney, and cucumber peanut salad.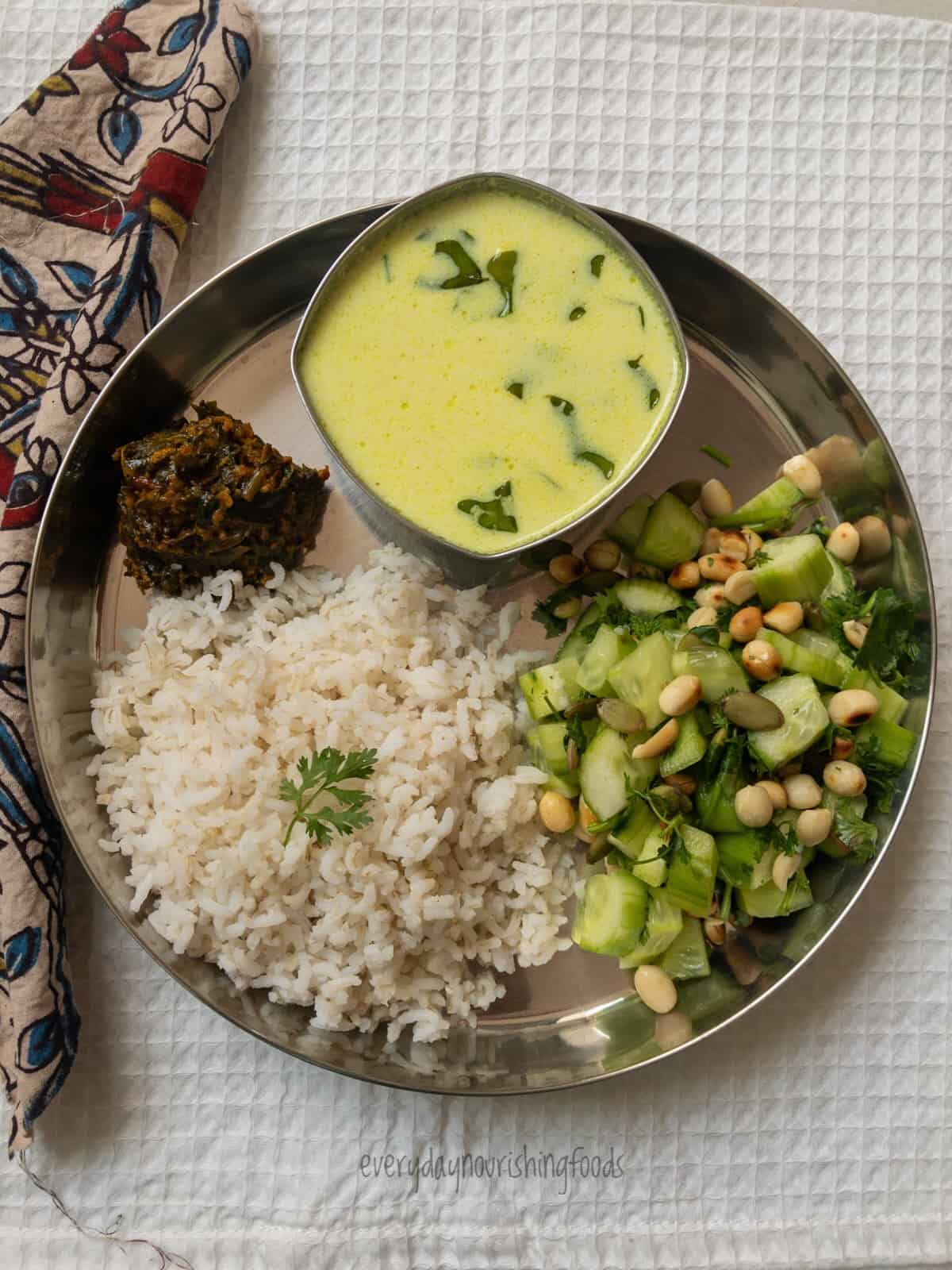 Recipe Notes and variations:
Cucumber has a lot of water content and when you add salt to it, it releases water. So add the salt just before serving the salad and only a small quantity of salt will suffice.
If you want to pack this salad for lunch or snack, better to pack salt separately.
If you like your peanuts or other nuts to be crunchy, toss them just before serving. As cucumber has a lot of water content, peanuts absorb it but they will taste good in that way also.
To make the salad as Indian style, I have added green chili. You can even add tadka with a teaspoon of oil, cumin seeds, and mustard seeds for that Indian touch.
You can add chopped avocado cubes. Avocado and cucumber combination taste so well.
You can add chopped onions and chopped tomatoes also.
Apple cider vinegar can be used in place of lemon juice.
Apple is also an amazing enhancement to this salad.
The addition of crucifier veggies like radish, cabbage, or lettuce also makes this salad tasty and healthy.
Different salad dressing combinations that go well with this salad:
Greek yogurt + black pepper powder + salt + cumin seeds powder or any herb
Avocado + lemon juice + black pepper powder + salt + pinch of dried oregano or any dried herb
Cashew cream or coconut cream + lemon juice + red chilli flakes + salt + dried mint.
Apple cider vinegar + pinch of coconut sugar or any sweetener + pepper powder + salt
Have you tried this recipe? Provide your feedback by giving a star rating and/or leaving comments. And don't forget to share the recipe with others on Facebook, Instagram, Pinterest, or Twitter.
Healthy cucumber salad recipe:
Recipe
Tried this recipe?
Give the rating by clicking ★ below
Healthy cucumber salad
Healthy and refreshing peanut cucumber salad recipe with different variations and various salad dressing options.
Ingredients
1

cup

cucumber cubes

⅓

cup

roasted peanuts

1

tablespoon

pumpkin seeds

¼

cup

coriander leaves

finely chopped

1

grenn chili

finely chopped

1

teaspoon

lemon juice

salt to taste
Instructions
Chop the cucumber into half-inch cubes.

Mix all the ingredients well.

And the salad is ready to serve!
Notes
Adjust the green chili quantity according to your preferred spice levels.
Or you can use black pepper powder as well.
Use can also add a teaspoon of olive oil to this salad.
Pin the recipe now for later use!
Looking for more salad recipes? Check out these!