Sarvapindi | Akki roti | Spicy rice flour pancake recipe | Sarva pindi recipe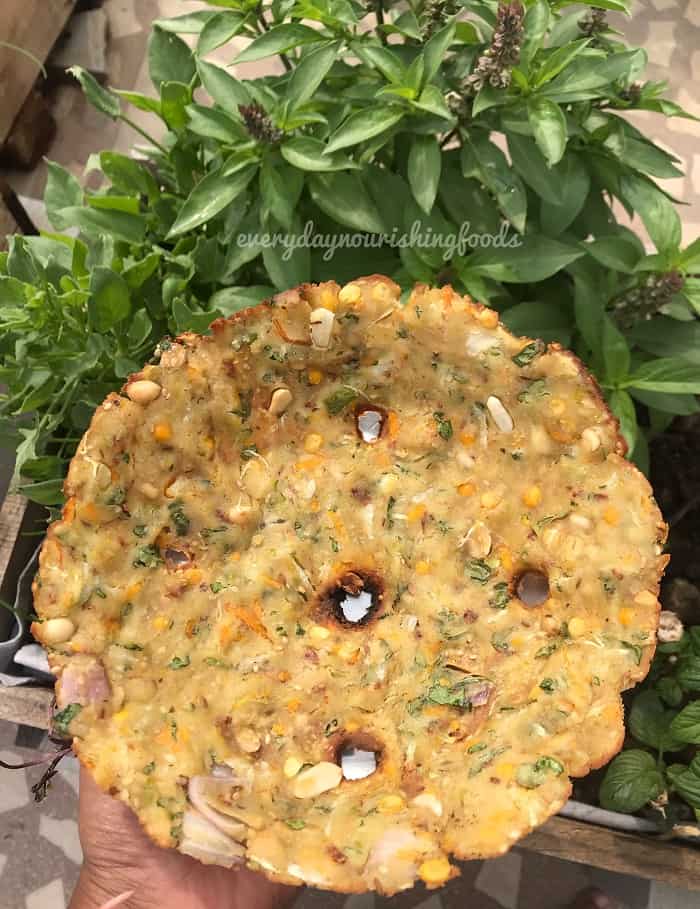 Sarvapindi is a flatbread made with rice flour in Telangana. This will taste similar to akki roti, a famous Karnataka dish. The only difference is dill leaves. Somehow we don't like the flavor of dill leaves and eat it very rarely.
Sarvapindi is our regular breakfast item, which we make at least once a week. We have it with curd or butter or ghee. In summers we also have it with aamras or mango juice.
With the same dough (excluding veggies and onions), we also make puris and deep fry them, called as Chekkalu or Pappu Chekkalu in Telugu. We do chekkalu occasionally and mostly during festivals as it is a deep-fried item. As we don't add onions and veggies, these stores well for 15 to 20 days and eaten as an evening snack with a cup of tea.
Generally, only onions are added to the dough but we add grated bottle gourd. Bottle gourd makes its slightly sweet and my daughter likes it so much. We also add grated ridge gourd, carrots, radish and green onions based on the season and what we have. This is an easy way to include veggies in breakfast.
It's not that easy to make it and requires some practice. Also, the dough should be of the right consistency. It should be like roti dough but it will not require that much water. Water quantity depends on flour and added veggies. If veggies are very fresh, they release more water when mixed. So we need to add less water.
Recipe for Sarvapindi:

Ingredients:
2 cups rice flour
200gms bottle gourd( I used half of the medium-sized gourd)
100gms ridge gourd( I used one medium sized gourd)
1/4 cup chana dal( soaked for 30 min. You can soak it up to 8 hours)
1/4 cup sesame seeds ( here I used half white and half black sesame seeds)
1tsp ginger garlic paste
1 tbsp green chili paste( You can as well use red chili powder. Adjust it according to taste)
1tsp jeera
1 onion( finely chopped)
Salt to taste
Oil to shallow fry.
How to make Sarvapindi…
Grate bottle gourd and ridge gourd. Add all ingredients to a mixing dish and mix everything without adding any water.
Now add water little by little and make a dough.
Don't add more water, it should be a little hard. By the time we make roti, water will be released from veggies and dough will become soft.
Now take an orange-sized portion of dough and pat it to the kadai as shown in below pic. Adjust the dough according to your pan size. Add a few spoons of oil and cook it until done.
Alternatively, you can make Sarvapindi like jowar or rice roti on wet cloth or plastic cover and cook on the tawa.
If you try this recipe or any of my recipes, please share your valuable feedback. I would love to hear your feedback on any of my recipes. You can share the feedback here or on my personal Instagram or Facebook page. Please do share the recipe if you like it 🙂
---
---