Do you have lots of summer squash? And are you looking for Indian Zucchini recipes? With these recipe ideas, you can accommodate Zucchini effortlessly into your Indian meals.
Zucchini plants are so prolific and can be easily grown in a home garden also. In summers, we get abundant Zucchini and make these recipes to include them in your daily diet.
Apart from using these Zucchini in Indian cooking, I like to add them to my dinner pasta or bake them as a side dish for lunch or dinner.
Indian Zucchini recipes:
And here are different recipes and ideas on how to use Zucchini in Indian cooking.
You can never go wrong with Zucchini curry. Just with basic onion tomato masala and coconut milk, we can make creamy, dreamy Zucchini curry.
This curry goes well with any rice, Indian flatbread like roti, naan, and even with dosa. If you do not like somewhat bland Zucchini, you should make this recipe as coconut milk and Indian spices make this curry rich and spicy.
When life gives you more Zucchini, add them to your roti dough and make these delicious parathas.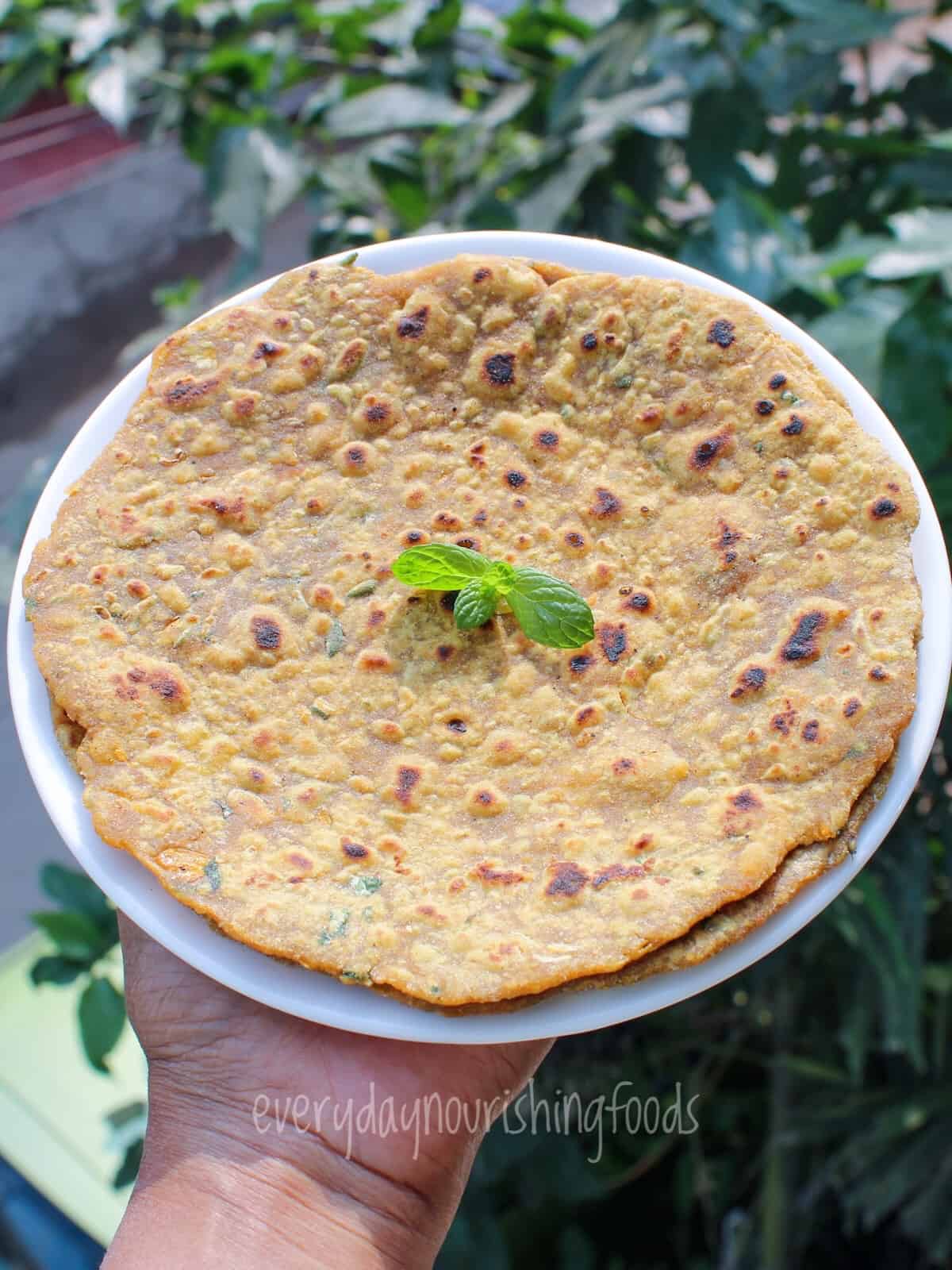 Serve this Zucchini flatbread with any curry or dal. Or you can use these as tortillas or make rolls with them. This can be exciting for kids. And as these taste good even when cold, ideal for lunch box wraps.
Why always make aloo gobi sabzi? Try making this Zucchini aloo sabzi. This stir fry is so easy to make and taste delicious.
You can serve this curry with rice or any Indian flatbread like roti, dosa, paratha. You can add some cooked beans and make this as a salad meal.
Make these protein-rich chickpea flour pancakes (besan chilla) with fresh summer Zucchini and enjoy them for any meal.
You can make the batter ahead of time and refrigerate it. So it will be ideal for a busy day meal.
If I run out of time, I also bake this batter and make the vegetable frittata. As this tastes good, even if it turns cold, it is an ideal lunchbox item.
Tired of making rajma masala every time? Then make this rajma curry with seasonal veggies and enjoy it with rice, roti, or a soup for a light dinner.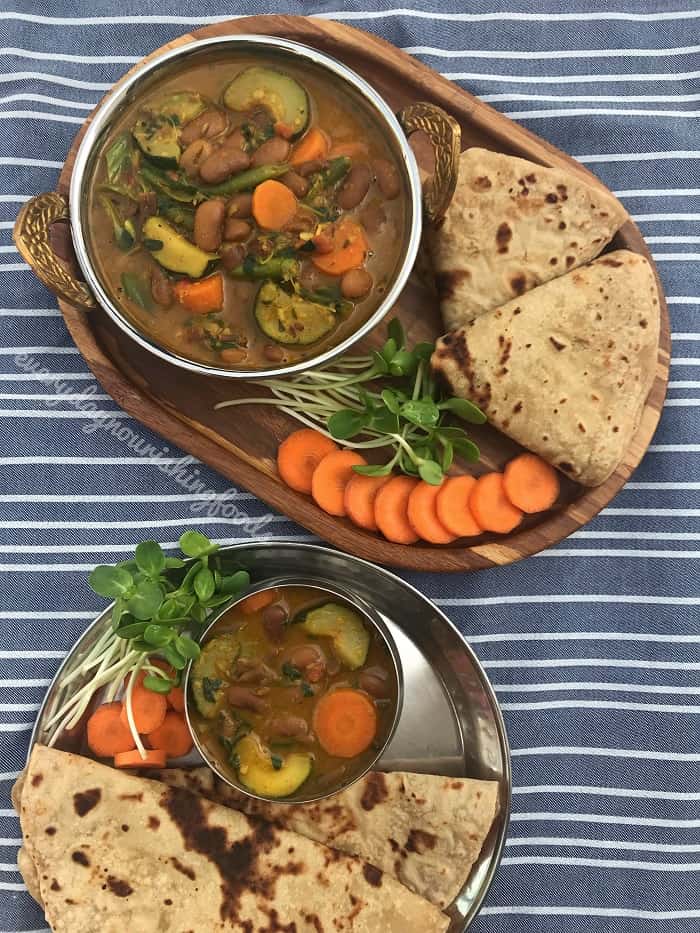 Other ideas to include in Zucchini in Indian food:
Zucchini can be cooked quickly, and you can add grated Zucchini to idly or dosa batter and make uttapam or paniyaram with this batter.
I usually add grated Zucchini to make Sarvapindi ( Telangana style rice flour pancakes. Usually, bottle gourd is used in this recipe, I use Zucchini when they are in season).
You can use grated Zucchini to make instant semolina pancakes batter or instant vermicelli dosa batter.
You can make Indian-style chutney with Zucchini that goes well with rice, idly, dosa. Just replace broccoli stalks with Zucchini in this Brocolli stalks chutney recipe.
You can use Zucchini in this mixed vegetable curry recipe. This curry will be good with rice or any flatbread.
Have you tried this recipe? Provide your feedback by giving a star rating and/or leaving comments. And don't forget to share the recipe with others on Facebook, Instagram, Pinterest, or Twitter.
Zucchini curry recipe:
Recipe
Tried this recipe?
Give the rating by clicking ★ below
Indian Zucchini recipes : Zucchini coconut curry
Do you have lots of summer squash? And are you looking for Indian Zucchini recipes? Then try these recipes and ideas to include more Zucchini into your daily diet. Start it with this delicious creamy Zucchini coconut milk curry!
Instructions
Wash and cut the Zucchini into half-moon chunks. You need not peel the Zucchini.

If you do not have prepared tomato masala paste, make it first, and then in the same pan, make this curry.

Heat a pan, add oil, and sliced Zucchini to it.

Cook them on medium flame until they are half done. It took around 5 minutes for me.

Now add onion tomato masala paste and mix it well.

After a couple of minutes, add red chili powder, turmeric powder, coriander seeds powder, garam masala powder, and salt.

Mix everything well and add coconut milk to this curry.

Now reduce the flame and let the Zucchini cook completely for around 5 to 6 minutes. Switch off the flame and add coriander leaves.

Indian-style Zucchini coconut milk curry is ready to serve! This goes well with any rice, Indian flatbread like roti, naan, and even with dosa.
Notes
You can make this recipe with green or yellow Zucchini or any squash. The cooking time of the curry depends on the variety of squash.

I have used coconut milk to make this South Indian-style zucchini curry. But you can use regular milk or any plant-based milk to make this. 

The final taste and consistency of the curry depend on the milk used. If you use cashew milk, curry will be slightly thick.

This recipe uses my basic 

everyday onion tomato masala

, also known as bhuna masala. 

Instead of Zucchini, you can make this curry with ridge gourd as well.

Any bell peppers or broccoli, or cauliflower will also be a good addition to this curry.

To make this curry more healthy, you could add baby spinach leaves at the end and cook it for a couple of minutes.
Looking for more curry recipes? Check these out!
PIN the recipe for later use